Jamie Carragher has named his selections for Premier League Team of the Season, and its no surprise that 7 Liverpool players are included in the XI. In a promising sign for England fans, there's no less than 5 English players included as well with an average age of 23.8 as the future looks bright.
Goalkeeper – Dean Henderson (Sheffield United)
"They have got a really good defensive record, he's kept a lot of clean sheets. I just think Sheffield United as a whole have been a breath of fresh air in the Premier League and they deserve someone to go into the team of the season." Carragher told Sky Sports. Despite thinking Alisson is the best goalkeeper in the world, his lack of appearances mean Henderson takes the number 1 spot.
Sheffield Utd have had a great first season in the Premier League, even picking up just 5 less points than Brighton in 2019, despite playing 18 less games. Clean sheets have been a major part of their success, and Henderson has been a huge part of that.
Defence – Alexander-Arnold, Gomez, van Dijk, Robertson (All Liverpool)
It is no surprise that there are so many Liverpool players included, the side have been almost unstoppable this season. The Reds currently hold a 25 point lead over Manchester City in second. Conceding just 21 goals, the defence has shown why they won the Champions League title last season.
Highlight of the Liverpool defence has to be youngster Trent Alexander-Arnold, who has picked up an incredible 12 assists this season. This number is second only to Kevin De Bruyne, who Jamie Redknapp recently tipped as his player of the season.
"I think it's difficult for anyone to really challenge the Liverpool full-backs" said Carragher.
Some players have shown fight, Leicester's Ricardo Pereira being one. At left back though, not many players have shown the consistency and quality of Robertson, despite him not quite reaching the level of last season."
Midfielders – Kevin De Bruyne (Manchester City), Jordan Henderson (Liverpool), Jack Grealish (Aston Villa)
"I've gone for Jordan Henderson to hold. He has probably played in the position for half the season and the other half he has played in more of an attacking role when Fabinho was fit. I think Henderson has had a brilliant season as captain of a team who is running away with the title."
Defensively Henderson has been the key to Liverpools tactics. Playing on the right side of midfield, he has more than willingly been able to provide cover. One of their most creative threats is Trent Alexander-Arnold, and Henderson filling in at the right back position has enabled him to get forward and create as shown below.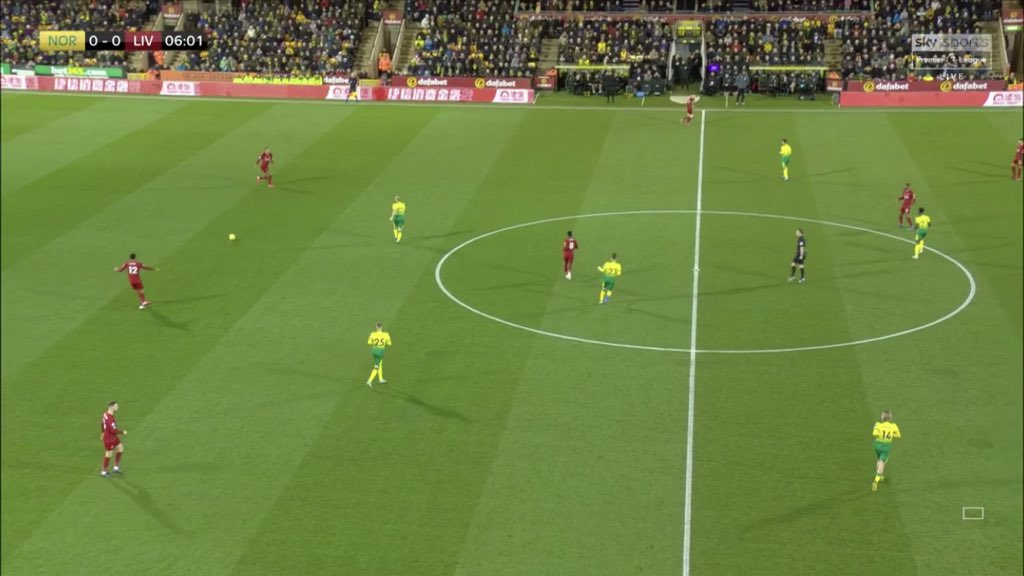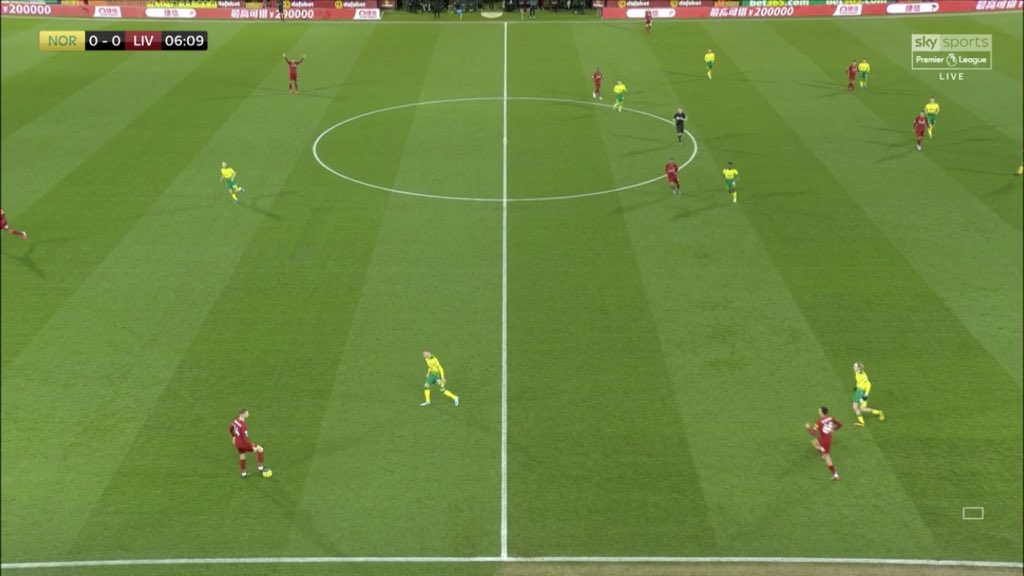 Kevin De Bruyne has more than earned his place in the side this season. His 8 goals and 16 assists have stood him head and shoulders above any other midfielder in the league.
Carragher says "I think [he] is the best midfield player in the world. If I was picking a world XI, De Bruyne would be in that position. I think he's as good as anyone, and there's no doubt he has to go in there."
Jack Grealish has also had a stormer of a season. He has been Aston Villa's talisman as they battle for survival. Stunning to watch and effective when the team perform, he has shown he is more than ready for the big time, even if Aston Villa might not be.
"The best way to describe him is that it almost feels like every time Grealish gets the ball, the game stops.
It's like everyone is waiting to see what he's going to do, like he's got time on the ball. Who knows how the season is going to end up and whether Villa go down or not, but there's no doubt he's got the quality to play for one of the top clubs in the Premier League or Europe."
More often than not, Grealish stands out when he steps on a football pitch. A perfect example is Villa's huge win in the Carabao Cup semi-finals, when Grealish carried his side over the line.
Forwards – Mo Salah (Liverpool), Sergio Aguero (Manchester City), Sadio Mane (Liverpool)
"He's not just a goalscorer and he's different from Salah, who I see as a real goalscorer, taking the penalties and looking to score every game. Mane is more involved in general play."
Many will say Mane is Liverpool's star man, and maybe even the bets player in the league. Watching the Senegalese play is a delight, his creativity, intelligence and physical prowess make defenders shake in fear. Joint top goalscorer last season, the winger has scored 14 this season in what has been Liverpool's outstanding campaign.
Carragher admits that Arsenal's Aubameyang was difficult to leave out, as he has had a stellar season too. But his differing position on the pitch made it difficult.
Instead he went for Man City's Sergio Aguero. "Whenever he plays, Aguero is absolute dynamite." The Argentinian has scored an incredible 16 goals in just 17 appearances. Injuries have meant he was not able to contribute to City's season as much as he would have hoped.
Despite saying Salah has had better seasons, the Egyptian is included. 16 goals this season is by no means bad! But he has definitely not had the same influence as in the past. Liverpool have been totally dominant this season. This dominance has changed from the past, however. The side are more controlled than before. In the past the aim was to outscore the opponents. Now, stability is more important and subduing the opposition.
"Adama Traore on the right for Wolves deserves a shout, he's been devastating at times." Carragher added.
Do you agree with Carragher? Who makes your Team of the Season?